Brown spaghetti with sauteed potatoes and peppered chicken. Drain off the water then give the pan a shake to 'fluff-up' the potatoes slightly. Fry the potatoes in a large frying pan with hot oil, turning often until very lightly browned. If you've got leftovers from last night's Saucy Sheet Pan Chicken with Sweet Potatoes and Peppers hanging out in the fridge, lucky you!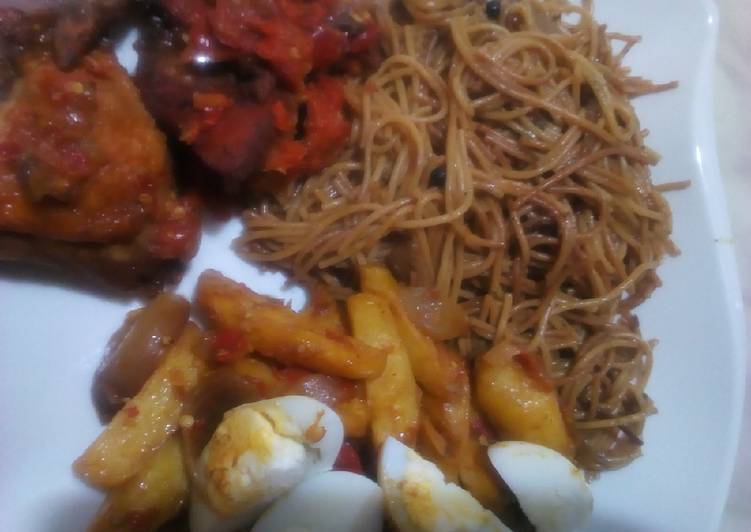 Cook up some brown or white rice. Chop up and saute any vegetables you have in your fridge with a generous drizzle of olive oil and thinly sliced garlic: carrots, cucumbers, zucchini, sweet. This Creamy Tuscan Chicken is one for the recipe binder! You can cook Brown spaghetti with sauteed potatoes and peppered chicken using 8 ingredients and 5 steps. Here is how you achieve it.
Ingredients of Brown spaghetti with sauteed potatoes and peppered chicken
It's 1 pack of Spaghetti.
You need 8 of big Irish potatoes.
It's 1 of chicken.
Prepare 4 of eggs.
Prepare of Pepper and tomato paste.
Prepare of Vegetable oil.
It's of Cinnamon powder.
Prepare of Black pepper powder.
It looks and tastes gourmet but is quick, easy, pantry friendly and all made in one skillet. This Creamy Tuscan Garlic Chicken is made with lightly dredged chicken cutlets cooked until golden then nestled in a. Heat a skillet over high heat. When oil is hot, put chicken breasts in pan and cook until golden brown on both sides and cooked through.
Brown spaghetti with sauteed potatoes and peppered chicken instructions
Fry spaghetti in hot oil then drain. Put stock and enough water to cook your spaghetti. Add cinnamon powder and black powder. Season with salt and Maggi. Allow to boil then add your fried spaghetti. Stir, cover and allow to cook..
Make a sauce by frying pepper and tomato paste. Season to your taste. Divide into two portions..
Peel and fry your Irish potatoes. Toss in one portion of the pepper and tomato paste. Add a little stock and sliced onions. Season to your taste. Then allow to simmer on low flame till all liquid is almost absorbed. Slice boiled egg in quarters and add.
Cut and wash chicken. Season and add little quantity of water. Cook. Deep fry in hot oil till golden brown. Serve topped with second portion of pepper and tomato sauce.
Plate your spaghetti, sauteed potatoes and chicken then serve..
Add remaining tablespoon oil to pan. Add onions and cook until softened. Add red bell pepper and cook until almost. Add bell pepper, sauce until crisp tender. Add garlic and serrano peppers, saute until fragrant.