Po'Folks Shepards Pie. A really good Shepherd's Pie should always start with a soffrito – that is, onion, garlic, carrots and celery sautéed on a lowish heat until sweet. It's the secret to a great flavour base that's a technique used widely by many cuisines, such as Italian cooking (for example, this Italian Shredded Beef Ragu). After this, we cook the ground / mince meat.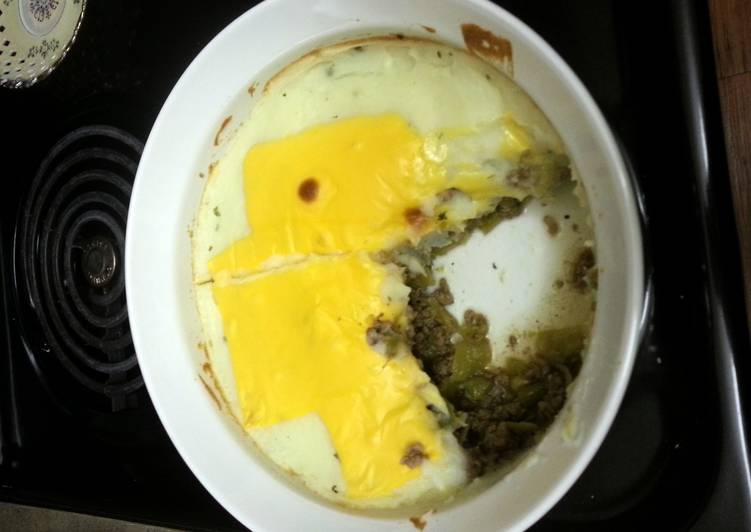 The beer is cold and the food is good.. Order online from Mario's Pizza and Subs on MenuPages. Heat a large Dutch oven with a tight-fitting lid over medium-high heat. You can have Po'Folks Shepards Pie using 12 ingredients and 9 steps. Here is how you achieve that.
Ingredients of Po'Folks Shepards Pie
Prepare 1 1/2 lb of ground beef.
It's 1/2 medium of onion.
It's 4 each of mushroom.
It's 1/2 dash of salt.
You need 1/2 dash of pepper.
It's 1/2 dash of garlic salt.
It's 1/2 dash of preferred seasoning.
You need 4 large of potatoes.
It's 1 packages of cheddar cheese.
You need 1/2 tsp of olive oil.
It's 1 can of green beans.
You need 1 can of carrots(optional).
Season the beef generously with salt and pepper, and add to the pan. These are secret recipes from restaurants (or developed by home cooks to taste similar) and homemade versions of packaged brand products you find in the grocery store. For the WW members, you will find three columns of points. It was in the Wheelhouse Bar and had all the pub favorites: shepherds pie, bangers and mash, ploughman's lunch, fish and chips, mushy peas and of course Guinness Stout.
Po'Folks Shepards Pie step by step
Preheat oven to 325.
Brown ground beef and drain fat then set aside..
Boil diced potatoes until smooth and season to taste.
Sauteed onion and mushroom until onion is translucent and mushroom is tender.
Heat green beans and season to taste then drain.
Mix onions, mushrooms, ground beef, and greens beans.
Pour ground beef mixture in casserole dish and smooth potatoes on top then add cheddar cheese evenly on top.
Bake for at least 20-35min or until cheese is melted on top.
Enjoy!.
Princess' pub lunch began on the new Ruby Princess last month and was so popular they are adding it, on sea days, to some of the other ships in the fleet. It was a big hit here. Grilled ribeye steak & bacon, mashed potatoes and sauteed onions covered with lots of mozzarella and cheddar cheese. Mashed potatoes as a base sauce, then top it with shredded ribeye, crispy bacon, fresh onions, green peppers and mushrooms. Husband had shepherds pie with squash/zucchini and glazed green beans.