Slow cooker lamb stew. Slow Cooker Lamb Stew with tender fall apart lamb chunks and hearty vegetables have a rustic flavourful thick broth. This Lamb Stew is definitely going to keep you warm in the winter. A warm comforting bowl of stew is a winter staple.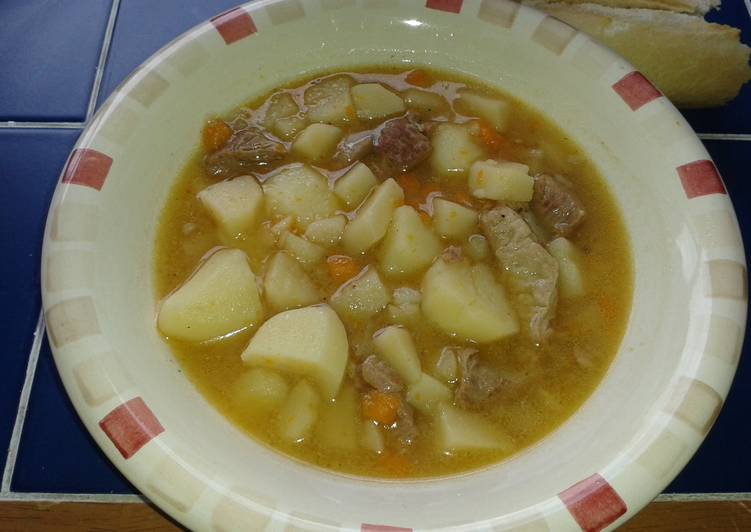 Turn off slow cooker and open the lid. Season stew with salt and black pepper. This classic lamb stew is a simple combination of boneless cubed lamb and vegetables. You can have Slow cooker lamb stew using 7 ingredients and 5 steps. Here is how you achieve it.
Ingredients of Slow cooker lamb stew
Prepare 300 grams of lamb shoulder cut in bite size pieces.
Prepare 1 of onion, chopped.
It's 1 of carrot cubed.
It's 500 grams of potatoes cubed/chopped.
Prepare 1 dash of olive oil.
You need 1 pinch of black pepper (I used bristol five blend but any freshly ground black pepper would do).
You need 1 pints of lamb stock ( mine is from stock cube).
Potatoes, carrots, and either turnips or rutabagas are among the vegetables in this hearty Irish stew. The slow cooker makes the stew a great choice for a busy day. Just sear the lamb and toss it into the crock pot with the remaining ingredients. Of course you can make this lamb stew in a pressure- or slow cooker which makes it a totally hands-off dish.
Slow cooker lamb stew step by step
Sautee lamb in a bit of oil until meat sealed. Sprinkle a bit of ground black pepper and cook a further minute.
Place meat in the Slow cooker and sautee onion and carrots on the oil from cooking the lamb. Let them soften. Once soft add to slow cooker.
Dice part of the potatoes very finely and add to the Slow cooker along with the lamb stock and cook on slow for 2.5 hours.
After a couple of hours add the rest of the potatoes in bigger pieces to finish cooking for further 2-3 hours on low..
Serve with your favourite bread.
Just be sure to sear the meat well before adding the cooking liquid as this is where so much of the flavor develops. How to make Irish lamb stew. Start by building flavor: Pat the lamb dry and season with salt. Juicy pieces of lamb slow-cooked to tender, melt-in-your-mouth perfection, combined with a handful of spices, potatoes and chickpeas. Just take a minute to take that all in.