Creamy potato chowder with corned beef shreds & garlic croutons. Heat the oil in a large soup pot over medium heat. Creamy potato chowder with corned beef shreds & garlic croutons Simple dish that is very rich and savory. Creamy Potato and Corned Beef Chowder will transform your corned beef leftovers into an delicious and hearty comfort food dinner!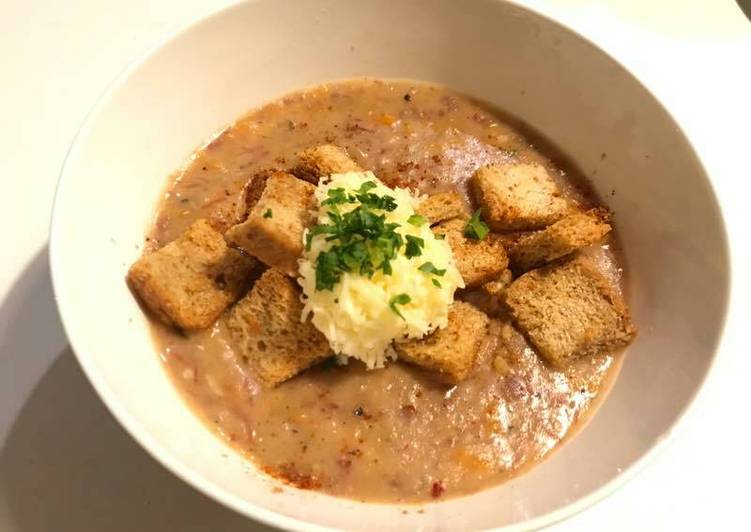 Coat a large soup pot with cooking spray and set over medium heat. Stir in potato soup and bring to a simmer. Tips for how to make Creamy Potato Corn Chowder. You can cook Creamy potato chowder with corned beef shreds & garlic croutons using 19 ingredients and 9 steps. Here is how you achieve that.
Ingredients of Creamy potato chowder with corned beef shreds & garlic croutons
Prepare 4 of large potatoes (skin off) dice to cubes.
You need 4 of large celery sticks (choped).
You need 4 of large carrots (chopped).
You need 2 of whole red/white onions (chopped finely).
Prepare 5 of garlic bulbs (minced finely).
It's 1 of shalots (minced finely).
It's 180 g of canned corned beef.
It's 3 of table spoons corn starch.
Prepare half of table spoon of chilly flakes.
Prepare 1 of table spoon red pepper powder.
It's 1 of table spoon onion powder.
It's 4 cups of chicken stocks.
You need 180 ml of cooking cream.
You need of grated parmesan or your fav cheese.
You need of chopped parsley for garnish.
Prepare of olive oil.
It's half of unsalted butter stick.
Prepare of salt & pepper for seasoning.
You need of garlic croutons.
Wash and chop your veggies, including potatoes, onion, and celery. Stir in the chicken broth, potatoes, and frozen corn. Place the shredded cheese in a large heat proof mixing bowl. Ladle in about a quarter of the hot liquid from the soup and stir with a sturdy wooden spoon until the cheese has completely melted and is fully blended inches Carefully pour the cheese mixture back into the saucepan and stir until fully incorporated.
Creamy potato chowder with corned beef shreds & garlic croutons instructions
On a med heat, cook the corned beef on a small pot with a drizzle of olive oil till semi-dry (3 minutes) add a spoon of butter and half of minced garlic and shallots. Continue cooking till the color changes to darker hue then set a side (3 to 4 minutes).
Prepare a large cooking pot. Drizzle 2 spoons of olive oil on med heat then sautee chopped onions till translucent. Add the remaning minced garlic. Add celery & carrots the continue cooking for 2 to 3 minutes. Seasoned with salt & pepper then add the corn starch inside and stir well.
Add the first cup of chicken stock and simmer on low heat for 2 minutes.
Add the potatoes and the second cup of chicken stocks then simmer with the lid closed for 3 to 4 minutes.
Add in the cooked corned beef, cooked and stir well. Add the third cup of chicken stock, onion powder, red pepper powder, pepper flakes & 1 bay leaf and adjust the salt and pepper. Simmer wih lid close for 5 minutes.
Stir well and keep on eye on the liquid since it will reduce down and pour in the last cup of chicken stock. Close the lid and simmer till well cooked (potatoes and carrots easily break with spoon) for about 5 minutes.
Add cooking cream and adjust salt & pepper. Cook for 2 to 3 more minutes and taste check.
Turned off the heat and put in the remaining of butter. Stir well till it melted perfectly.
Serve hot with garlic croutons and add the grated cheese on top with chopped parsley.
Using a slotted spoon, remove bacon from pot and place on paper towels; set aside. Keep the bacon grease in the stockpot. In a large saucepan, cook and stir onion in oil over medium heat until tender. Add broth and potatoes; bring to a boil. Sling the butter into a soup kettle and melt over medium-high heat.