Scalloped Potatoes. The perfect side dish to an elegant or celebratory main course, or the welcome addition to any potluck supper, scalloped potatoes are one of those dishes that seem complicated, but are deceptively simple. You'll need to put in a bit of "peeler time" to get the spuds ready for the oven, but after that it's just a long bake and a short standing period to let the sauce thicken. This cheesy scalloped potatoes and ham-layered casserole dish features buttery potatoes and sweet hickory ham baked in a double Jack and Cheddar cheese sauce.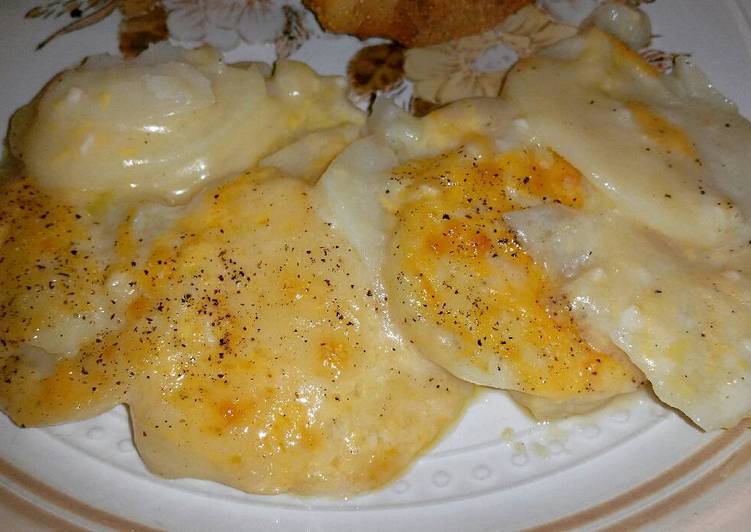 Creamy with a cheesy topping, scalloped potatoes can easily play side dish to almost any main course. Serve scalloped potatoes with your favorite meat and watch your family fall in love. In a small saucepan, melt butter; stir in flour, salt and pepper until smooth. You can cook Scalloped Potatoes using 11 ingredients and 5 steps. Here is how you achieve it.
Ingredients of Scalloped Potatoes
It's 4 lbs of baby red potatoes.
Prepare 1 of yellow onion.
It's 2 tbsp of minced garlic.
Prepare 3 tbsp of butter.
Prepare 3 tbsp of flour.
Prepare 1 cup of milk.
It's to taste of salt & pepper.
You need 2 tsp of thyme.
It's 2 cups of shredded cheddar cheese.
It's 1/2 cup of grated parmesan cheese.
You need 1/2 cup of bacon bits.
Place a half of the sliced potatoes in a lightly greased one quart casserole dish. Pour half of cheese sauce over potatoes. Repeat with second layer of potatoes and cheese sauce. Sprinkle the remaining cheese on top.
Scalloped Potatoes step by step
Preheat oven to 400°..
Melt butter in a large sauce pan, add sliced onion & sautée until translucent. Add minced garlic & cook until fragrant..
Stir in flour until evenly combined. Then add milk, salt & pepper & thyme. Whisk until combined. Continue cooking until sauce comes to a simmer & thickens. Remove from heat & set aside..
Grease a 9×13 baking dish with non stick cooking spray. Spread 1/2 of the potato slices in an even layer at bottom of the dish. Top evenly with 1/2 the cream sauce & sprinkle with 1 cup cheddar cheese. Then top again evenly with remaining potato slices, remaining cream sauce, remaining cheddar cheese, all of your parmesan cheese & your bacon bits..
Cover with aluminum foil & bake for 30 mins, remove foil & bake for another 30 mins. Serve & Enjoy!.
Top with some paprika for color. Serve up a heaping side of scalloped potatoes, a tried-and-true comfort food favorite. Combine flour, salt and pepper; sprinkle a third over potatoes. Top with a third of the onion. Combine soup and milk; pour a third over onion.