Gnocchi with charred red pepper and pistachio pesto and sautéed mushrooms. Add the cooked gnocchi and half the reserved gnocchi cooking water to the pan of cooked vegetables. Add the pesto and mascarpone; stir to thoroughly combine (if necessary, gradually add the remaining cooking water to ensure the gnocchi are thoroughly coated). Stir in gnocchi and red pepper flakes.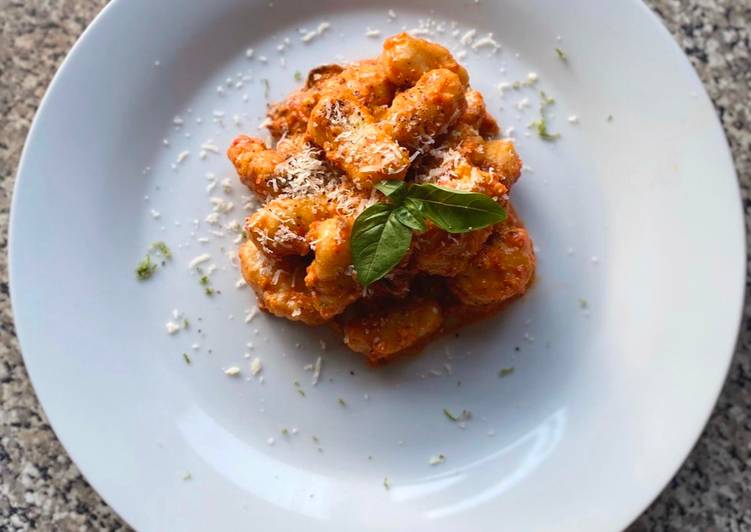 Sautéed Wild Mushrooms, Cippolini Onions, Marsala Wine Sauce, Mashed Potatoes. Napoletana, red pepper & beetroot sauce with mixed mushrooms, beans and fennel served on soft polenta. Roasted aubergine on grilled polenta, roasted cherry tomatoes, long-stem broccoli, almond ricotta, pistachios & basil pesto. You can have Gnocchi with charred red pepper and pistachio pesto and sautéed mushrooms using 18 ingredients and 11 steps. Here is how you cook that.
Ingredients of Gnocchi with charred red pepper and pistachio pesto and sautéed mushrooms
It's of For gnocchi:.
Prepare 100 g of plain flour.
You need 4 of medium sized Maris Piper potatoes.
Prepare 1 of egg + 1 extra egg yolk.
Prepare of For pesto:.
Prepare 6 of sweet Romano peppers.
You need 4 cloves of garlic.
It's of Thyme to season.
It's 1/3 cup of pistachio and almonds mix.
You need 1/4 cup of Olive oil.
Prepare of Lime zest.
You need Squeeze of lime juice.
You need of Salt.
It's of Few drops of chili oil.
You need 100 g of parmigiana cheese.
Prepare of Extras:.
Prepare of Shaved parmigiana.
It's 3 of large chestnut mushrooms.
Pan-seared, fresh Aukra salmon, served over coconut ginger rice, topped with mango salsa, served with with charred asparagus & finished with a spicy red pepper aioli swirl STEAK TIP GORONZOLA The key to this recipe is how you cook the store-bought gnocchi: No need to boil. Just sear them until they are crisp and golden on the outside, and their insides will stay chewy. Mortadella meat on a marinara pizza with crushed pistachios and mushrooms.
Gnocchi with charred red pepper and pistachio pesto and sautéed mushrooms step by step
Peel and score potatoes and place in a large pot of salted boiling water and leave to boil until fully cooked..
Once the potatoes have cooked through, mash the potatoes, add the egg and the extra yolk and add in the flour. Mix the ingredients until they form a nice dough..
Spilt the dough into 4 equal parts with a knife and take take one section at a time. Flour a clean flat surface and roll the dough into a long tube-like shape that is roughly 2 cm in diameter.
Cut the long tube into small pieces that are roughly 2 cm long to form the gnocchi. To shape the gnocchi, roll each piece into an oval shape and score each with a fork to give it a nice shape. If they aren't perfect, don't worry, the taste is always more important!.
In a large pot, bring some water to a boil and salt it. Once the water is boiling, add in 5-10 pieces of gnocchi at a time to ensure the pot is not overcrowded. Let the gnocchi boil for 15-30 seconds and remove them. They are now ready!.
To make the pesto, start by washing and preparing the peppers, removing the seeds in the centre. Place a clove if garlic in each pepper and massage each pepper with olive oil and then wrap each tightly in some foil.
Roast the peppers on a hot flame or under a grill until they are nicely charred.
Remove the peppers and roasted garlic from the foil and put them in a blender along with the olive oil, thyme, chili oil, lime zest and lime juice. Pulse the bender to blend down the mixture.
Add the pistachios, almonds and parmigiana to the blender and pulse the blender to blend the mixture down whilst retaining a nice pesto consistency. Finally add salt to the pesto to taste and it is ready!.
Chop the chestnut mushrooms into thin slices and sauté them in a large pan with some butter and fresh basil. Once the mushrooms have been cooked down, add the gnocchi and pesto to the pan and mix thoroughly so the gnocchi is perfect coated in pesto.
Plate the gnocchi, grate fresh parmigiana on top and garnish with fresh basil to serve!.
Red pizza with cherry tomatoes , salami , and peppers and pepperoni.. Sauteed mushrooms, pistachio pesto and lemon zest. Escargot cooked in garlic butter and topped with red pepper bread crumbles, served with two of our house crostinis. Add spinach, mushroom and garlic; season with salt, pepper, garlic powder and Italian seasoning. Combine all pesto ingredients in a blender or food processor; blend.