Sautéed Potatoes with Rosemary. Heat the oils together in a very large non-stick frying pan. Sprinkle with the rosemary and flaky salt, then serve. Heat the oil and butter in a deep frying pan.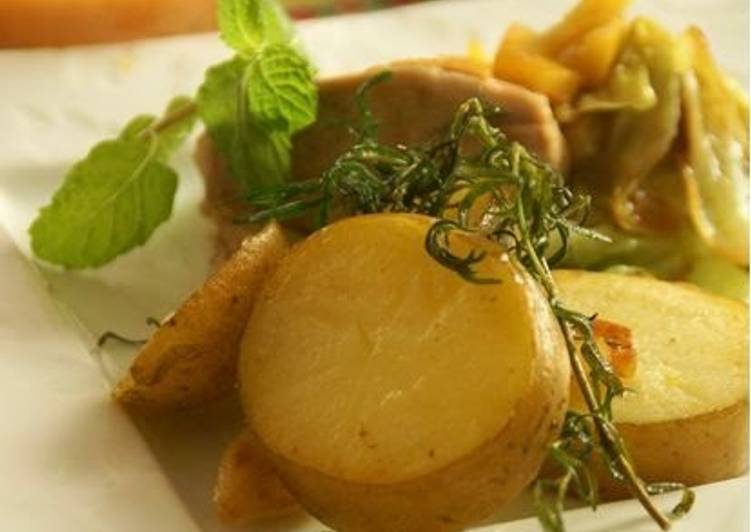 Heat your oil in a large heavy based frying pan and add the potatoes, rosemary sprigs and garlic and gently. Delia's Oven-roasted Potatoes with Garlic and Rosemary recipe. In keeping with the principle that outdoor eating needs to be gutsy, these little potatoes are just that. You can have Sautéed Potatoes with Rosemary using 6 ingredients and 6 steps. Here is how you cook it.
Ingredients of Sautéed Potatoes with Rosemary
You need 400 grams of Potatoes (I recommend May Queen).
Prepare 1 clove of Garlic.
You need 2 of sprigs Rosemary.
It's 1 tbsp of Olive oil.
It's 1 tbsp of Butter.
You need 1 of Salt and pepper.
They're easy too – they don't need any attention; you just leave them in the oven till you're ready to serve. Delia's Oven-sauteed Potatoes with Red Onion, Garlic and Rosemary recipe. A pack of frozen spuds becomes really classy with this treatment; the finishing flourish is a sprinkling of rosemary flaked sea salt. Stir and cover with lid again.
Sautéed Potatoes with Rosemary step by step
Wash the potatoes well and place on a microwave safe bowl or wrap with plastic cling wrap individually. Place in the microwave for about 5 minutes (at 500W)..
Cut the potatoes into 1 cm slices. You can peel the potatoes if you like. Halve the garlic cloves in half and smash..
In a pan, heat the olive oil and melt the butter. Add the garlic and rosemary on low heat..
When fragrant, add the potatoes and slowly cook over low~medium heat..
When the potatoes are golden brown, sprinkle with salt and pepper, then you're all done..
It's a great side for meat dishes..
The potatoes should be soft and well browned. Meanwhile, in a large skillet, saute onions in oil until softened. Transfer roasted potatoes to a large bowl; stir in caramelized onions. Bash up rosemary leaves with pestle and mortar (or back of knife). Season and toss together until well-coated.