Potatoe Pinwheels. Starting at one long side, tightly roll up dough; pinch seams to seal. In medium bowl, with fork, mash potatoes leaving some small pieces. Transfer potatoes to a mixing bowl and, using a fork, mash potatoes leaving some small chunks.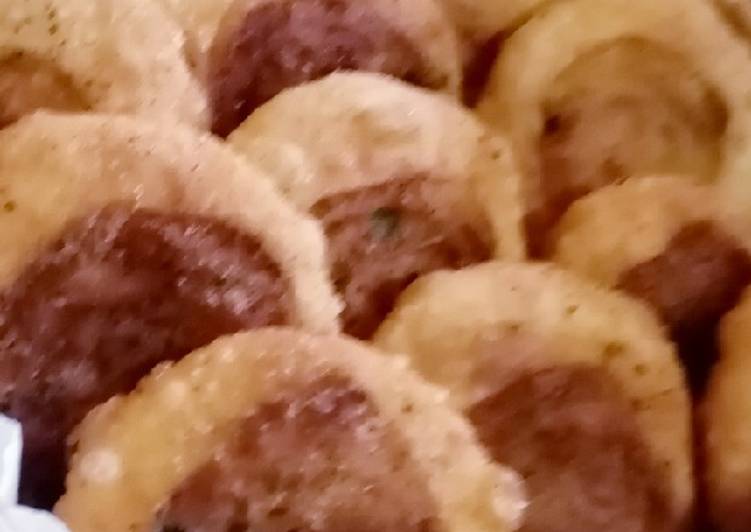 Samosas are one of the most popular and wanted street food in Indian subcontinent. Patrick's Day candy with a very surprising ingredient: mashed potatoes! The potatoes make the candy nice and creamy, and the peanut butter filling adds a nice salty touch that keeps them from being too sweet. You can cook Potatoe Pinwheels using 21 ingredients and 12 steps. Here is how you cook that.
Ingredients of Potatoe Pinwheels
It's of Dough Ingredients.
You need 2 cups of all purpose flour.
It's to taste of Salt.
Prepare 2 teaspoon of melted butter.
It's 1/3 teaspoon of caraway or cumin seeds.
You need of Water.
You need of Potato filling Ingredients.
You need 5-6 of potatoes boiled and mashed.
You need of Diced onions.
It's of Diced green, red and yellow capsicum.
Prepare of Fresh chopped dhania.
It's 1 teaspoon of crushed garlic.
Prepare 1/4 teaspoon of ground cumin.
Prepare 1/4 teaspoon of curry powder.
Prepare 1/4 teaspoon of ground black pepper.
Prepare of Any other spieces as desired.
You need to taste of Salt.
Prepare of Flour Paste Ingredients.
It's 2-3 tablespoons of all purpose flour.
It's of Water.
It's of Deep frying oil.
Potato Pinwheels a Special Ramadan Recipe by Kitchen With Amna. A Step by Step Complete Recipe Video of Po. Summary: An old-fashioned candy with a surprising ingredient, these Potato Peanut Butter Pinwheels are a charming dessert. Potato Candy actually originated in the South during the Great Depression; making this tasty treat was a great way to create a delicious confection out of the little ingredients that were available during those trying times.
Potatoe Pinwheels step by step
Mix in flour, salt, caraway or cumin seeds and the melted butter..
Add in the water and knead dough until soft. Cover and set aside..
Boil potatoes and mash them thoroughly to a very soft and smooth paste..
To the mashed potatoes, add in the diced vegetables, garlic and fresh dhania either raw or sauteed (I prefer sauteed because of the kids, so they are soft for their palate, salt, ground cumin, black pepper and curry powder and mix well and set the mixture aside..
In a bowl mix in the flour and water to a smooth paste (not to thick) and set aside..
Dust dough and roll out to a very thin layer..
Scoop your potato mixture and evenly spread on the rolled out dough..
Then roll it in tightly and cut the dough into even sizes..
With the palm of your hand gently flatten each roll as shown below..
Heat oil and dip in the rolls into the flour and water paste and deep fry..
Fry until rolls are nicely browned and cooked..
Serve with desired dip. Enjoy..
Season to taste with salt and pepper. Divide mixture between pastry sheets and spread to cover half of each sheet. The Samosa potatoes come together quickly if you have boiled potatoes. Faster with store bought or pre-made tamarind chutney. Make the quick Tamarind chutney and Mint cilantro chutney.